Back to Home Page
CURRICULUM VITAE
D. J. WOOD
MTMA, MIIRSM, Dip SM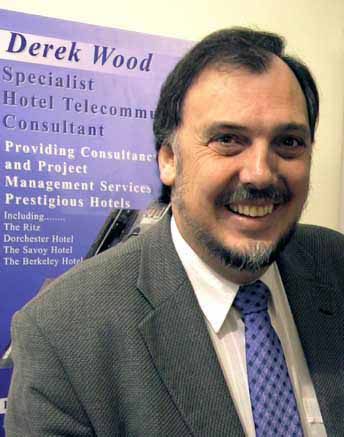 AGE 46
MARITAL STATUS Married with 2 adult daughters
EXPERIENCE
DEREK WOOD ASSOCIATES Ltd. 1997 to date
Managing Director and Principal Consultant.
Consultancy projects undertaken include:
Network design (voice and data)
Selection of systems and supplier
Project management of system installation
Design and project management of the installation of building wiring schemes (structured, voice and data)
Formulation of future telecommunications strategic plans
Technical and service cost audits
System operation and user training
Cellular communications - selection and operational management
Call Charging dispute arbitration
Derek has achieved an enviable reputation within the hotel industry of being the UK's foremost independent telecommunications consultant, specialising within the hotel and leisure sector. He is regularly asked to speak at international hotel conferences on the development of telecommunications within this industry, both throughout Europe and within the United States of America. Many of his innovative ideas are now being taken on by leading companies and hotel groups.
BELL INFORMATION TECHNOLOGY SERVICES Ltd. 1986 - 1997
Marketing Director. Derek and a colleague established Bell IT Services Ltd. after being made redundant from Imperial Group Ltd. As Marketing Director, Derek quickly established the company to be one of the foremost small independent consultancy companies within the UK. Contracts were undertaken throughout Europe, of which Derek has been personally been responsible for work in France, Germany, and Belgium.
IMPERIAL GROUP 1971 - 1986
Assistant House Manager, responsible for the day to day running of the Head Office and numerous other properties in and around Bristol. The work involved managing annual budgets in excess of £5M, as well as the practical elements of the daily management of a building and associated car fleet etc.
Also held the position of the Group's Safety Officer, responsible for the safety of employee's at the Bristol Head Office and London office sites. This entailed providing advise on all aspects of health, safety and welfare in a working environment and particularly, those related to telecommunications systems installations. Aspects handled encompassed:-
Accident investigation
Establishment of accident reporting procedures
Site safety inspections
Formulating company safety policies
Ensuring compliance with statutory health, fire and safety regulations
In additional to the above, had the responsibility for all telecommunications services at the Group's Bristol and London Head Office sites. In this role, specified the new systems and assisted in its selection and that of its suppliers. Then project managed the installations and assisted in the development and project management of a private network to link the system to all other divisional head office sites.
Following a decision by Anchor Hotels Ltd., an Imperial Group subsidiary, to modernise its hotels, wrote a standard specification of requirements for telephone systems, against which a system and supplier was selected. Then went on to project manage the installations. The project involved some 20 systems, the first four under the auspices of Imperial Group and the remainder as Services/Marketing Director of Bell Information Technology Services Ltd.
---
DWA CONTACT DETAILS
68 Riverside Way
Hanham
Bristol
BS15 3TF
ENGLAND

| | |
| --- | --- |
| Telephone: | +44 (0)117 961 2938 |
| Facsimile: | +44 (0)117 961 2100 |
| Mobile: | +44 (0)7836 501644 |
| Email: | derek@derekwood.co.uk |
blog